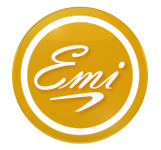 Welcome to Emi-Gold Beauty Salon
Bookings: 01902 276745 | 07534 061885
Professional Beauty Salon in the centre of Wolverhampton




*GOLD Treatments: Professional & friendly people...
Open 6 days a week, Emi-Gold Beauty Salon is a warm, friendly place to have all you're beauty needs taken care of by talented professionals. Situated in Wolverhampton town centre, refresh and revitalise yourself with our 'Gold' services. We pride ourselves in being able to provide our customers with up to date information in the beauty industry, for help & advice feel free to call: 01902 276745 or email: info@emigoldbeauty.co.uk
1. Threading
Eyebrow Threading - Threading removes unwanted hair in a more accurate line giving a super groomed and defined look. The process is chemical free and requires no wax. This is how celebrities remove facial hair.
2. Waxing
Waxed areas will not grow hair for three - eight weeks. Did you know you can wax almost any area? Eyebrows, face, bikini area, arms, legs, back, abdomen and feet.
BOOK: 01902 276745. If we don't answer we will be in treatment, leave a little message.
3. Facials
Perhaps you are looking for a total skin rejuvenation and top-to-toe pampering treat? If you dont want to leave the salon feeling bare-faced, why not book a makeup touch-up with the Emi-Gold team.
4. Skin Peel
Discover how in just days you can dramatically renew the look, feel, and Health Of Your Skin.
Emi-Gold specialise in fluid skin treatments call today.
5. Indian Head Massage
A beautiful and relaxing massage experience that soothes the senses.
6. Pedicure
Your pedicure will usually close with a massage of your feet and lower legs and possibly another soak in the footbath before a good quality polish is applied to your nails.
Removal of dead skin, softening hard skin and shaping treatment of toenails
7. Manicure
Emi-Golds best manicure secrets in one spot, how to keep polish from lasting, the most flattering nail shapes and much more.
8. Eyelash Extensions
Perfect eyelash extensions can range from cluster lashes or be semi permanent and last from 3 days to anything up to a month with maintenance depending on type selected. Eyelash extensions provide thickness and length to your natural lashes, enhancing the charm & appeal of your eyes.
9. Micro-Needling
Micro-Needling is a minimally invasive skin-rejuvenation procedure that involves the use of a device that contains fine needles. The needles are used to puncture the skin to create a controlled skin injury. Each puncture creates a channel that triggers the body to fill these microscopic wounds by producing new collagen and elastin. Through this process there is improvement in skin texture and firmness, as well as reduction in scars, pore size, and stretch marks.
Our Approach
At Emi Gold, we take pride in making you look and feel great whether you are looking to pamper yourself with an indulgent facial or body treatments or simply maintaining a regular grooming regime, there truly is a treatment suited to women and men of all ages.
Beauty Treatments
An extensive range of beauty and well being treatments which are delivered to you by our friendly and trained staff.
Skin Peels
Eye Treatments
Semi Permanent Lashes
Hair Removal
Womens Waxing
Mens Waxing
Microblading
Manicures
Pedicures
Make-up
Micro-Needling
Facials
Hopi Ear Candles
Massages
Body Treatments
Download Brochure
View our complete price list here or click on the image below.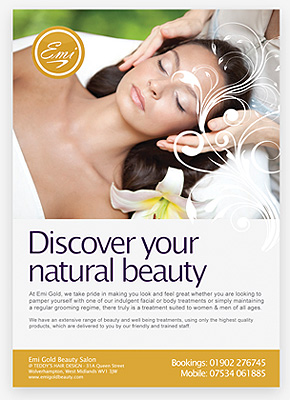 Our Location
OPENING TIMES
Monday (Appointment Only)
Tuesday to Friday 10am - 6pm
Saturday 9.30am - 5.30pm
Landline: 01902 276745
Mobile: 07534 061885
Email Bookings: info@emigoldbeauty.co.uk